Hill Military Tailors was established in 1953 by Rod Hill
Rod Hill served 26 years in the Grenadier Guards and was Master Tailor for the 2nd Battalion Grenadier Guards for 17 years (Colour Sgt) before leaving and setting up his own tailoring company, Hill Military Tailors.
After years of tailoring contracts for the Army including Whitecity, Regents Park, Middle Wallop, Pirbright, Bordon, Arborfield, Caterham and Tidworth. He semi-retired and now tailors No.1 Dress suits which he rents out for weddings and other events.
Orders for Officers or other ranks No. 1 Dress Uniform rental can be placed via telephone (07760 232 931) or email hillmilitarytailors@hotmail.co.uk only.
Fittings for Number 1 Dress can be arranged only on Saturdays between 9am and 1pm via pre-arranged appointment.
There is also a self measure system - Height, Chest and Waist and Collar sizes required. Order form can be obtained via telephone or by email hillmilitarytailors@hotmail.co.uk .

Items available:

Number 1 Dress Jackets
Number 1 Dress Trousers (not mess dress)
Waist Belts with Regiments Badge (Public Duties White Belt type)
Infantry swords
Silk waist sashes
>Sword belts
Gold cord shoulder boards
Gold sword knots
White belts, gloves, shoulder sashes, shoulder cords
Price includes any tailoring required, medal ribbons, loops, chevrons, trade badges, collar badges, ep changes. All items required for a fantastic wedding & functions (except the Bride and boots !). Many investitures and Knighthood uniforms for the Palace have been loaned out (Including Johnson Beharry VC) and H M The Queen has had many of our uniforms in front of her.
Hill Military Tailors also made Prince Harry and Williams combat jackets from scratch for a visit to the Gurkha Regiment when they were youngsters. They made the uniforms for the TV Programme Soldier Soldier and have been in the military tailoring business for over half a century.
A 7 day court mounting medal service is available.

* NB: This service is for members of the armed forces only and NOT a fancy dress rental service.
Some items are for sale but primarily rental hire.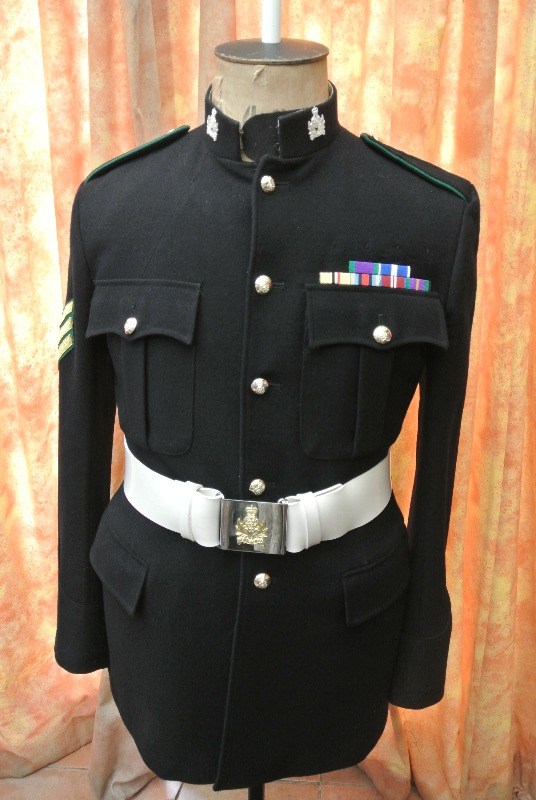 ---